Imagine...waking up every morning inspired to
grow

, be

excellent

, and make a

positive impact

by helping others.
That's what we do and we need your help!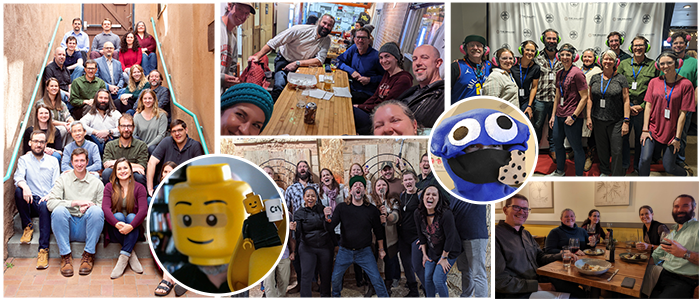 WANTED...
SUPERSTAR

EXECUTIVE ASSISTANT
Our new Executive Assistant will work directly with our CEO, Blakelee Mills, to reduce friction, provide leverage, and multiply the productive output of the team thereby enabling us to help even more scientists and engineers to communicate their complex ideas.
WHAT YOU WILL LOVE TO DO...
✔️ You will increase the capacity of our CEO and others on the team by freeing up time so they can do their best work.
✔️ You will manage scheduling and meeting logistics, and maintain clear and accurate records.
✔️ You will coordinate, write, edit, and distribute team and customer communications.
✔️You will oversee, systematize, and streamline internal processes such as team engagement, customer engagement, and scorecard preparation.
✔️ You will initiate, lead, and guide special projects, including sales and marketing endeavors.
✔️ You will schedule, organize, and manage team events.
YOU'RE THE

SUPERSTAR EXECUTIVE ASSISTANT

WE'RE LOOKING FOR IF...
✔️ You have unusually high EQ and people smarts.
✔️ You enjoy helping people and meeting their needs in creative ways.
✔️ You are proactive, forward thinking and "think on your feet."
✔️ You are bold, courageous, and confident in yourself.
✔️ You have strong written and spoken communication skills.
✔️ You are trustworthy, confidential, and have unwavering integrity.
✔️ You have a "figure it out" attitude about any new project or task you haven't done before.
✔️ You are resilient and adaptable with an intense growth mindset.
✔️ You are self-motivated, self-directed, and self-responsible.
✔️ You have good judgement and are decisive.
✔️ You are excellence obsessed and detail-oriented.
✔️ You are disciplined and focused with extreme productivity.
✔️ You are innovative and technically adept.
This is a full-time, hybrid position. You will work from Golden, CO a few days per week (days and times are flexible) to work face-to-face with Blakelee. This in-person interaction is critical as it will allow you and Blakelee to quickly and efficiently establish trust and rapport.
➡️ Challenging, rewarding work of all types – You will have many opportunities to learn about leading and operating a business. Your primary responsibility is to support our CEO. Additional opportunities for growth are available after meeting the needs for the primary responsibilities. From day one, you will be a contributor.
➡️ An excellent work environment – We are a group of friendly, dedicated individuals who take great pride in what we do. We have a strong desire to provide the best software and all around experience for our customers and to make Golden Software a great place to work. We are focused on results, and as such, we support the flexibility you need to be most effective in your role. We focus on continual improvement of self and company, and believe the only mistakes in life are those where nothing is learned.
➡️ Stability – Golden Software has been in business for more than 35 years but we're not bogged down by bureaucratic bloat.
BENEFITS
🌟 Competitive salary
🌟 100% employer-paid health, dental, vision, and life insurance
🌟 401k with guaranteed match and discretionary profit sharing based on company performance
🌟 Unlimited approved time off
🌟 Internal career growth and development opportunities
🌟 Time dedicated each week to self improvement
🌟 Casual team culture with an 'open door' policy
🌟 Routine company social gatherings and activities
The scientific visualization software we develop, sell, and support is used by scientists and engineers across the globe.
These individuals solve some incredibly complex and challenging real-world problems - they save lives, they help locate and preserve valuable resources, they conduct environmental impact assessments, and ultimately, they make the world a better place!
We are passionate about helping these individuals make their positive impact by enabling them to communicate complex information in an easy to understand visual format. Our customers are at the heart of all of our conversations, and this is the reason we have the best reputation in the industry for high quality, user-friendly software with legendary customer support.
⚠️ IMPORTANT: SUPERSTARS ONLY ⚠️
Please
do not

apply for this position unless you can prove that you are an experienced superstar executive assistant candidate. This is a highly coveted role working with an extraordinary group of people, and we won't settle for less.
We won't waste your time. Please don't waste ours.
SUPERSTARS, KEEP READING...
If you are a superstar, follow the instructions below. We promise, this will be a great experience!
🌟 Send resumes in confidence to jobs@goldensoftware.com
🌟 Subject line: I'm your Executive Assistant Superstar
🌟 Include your resume and answers to the the following questions:
What are three of your most unique and significant strengths, as you would describe them?
Why do you want to work with us and why do you think you'd be a valuable addition to our team?
We look forward to hearing from you!